Gang foes see lull as chance to retake communities - pressofAtlanticCity.com: Crime
This summer could mark a turning point after decades of violent crime in Atlantic City.
"Timing is everything," said Perry Mays, a longtime anti-violence advocate. "I think people in the community are fed up. They want to stand up and take their community back."
Months after two of the city's allegedly most violent drug gangs were crippled in multiagency raids — dozens of Dirty Blok and 800 Blok gang members were arrested — and a gun buyback program took thousands of guns off the streets, advocates are joining together in a way not seen in Atlantic City and the area.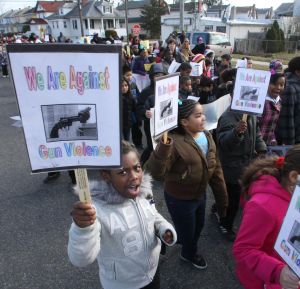 Things have been quieter. Atlantic City has had three homicides this year; there had been a dozen at this time last year. Pleasantville had three in January 2012. This year, none.
"Any time crime is down for a period of months, I'm cautiously optimistic," says acting Atlantic County Prosecutor Jim McClain.
In 1982, the city saw 20 homicides, the most it's seen since figures were reliably recorded. Thirty years later, in 2012, 19 people were killed within city limits, including one by police.
A task force of local and state officials has formed to take advantage of a lull in violent crime, although shootings are still regular. The changes in one Atlantic City neighborhood were already evident on the first community walk in July.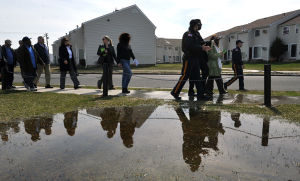 "This used to be empty," said Dewane Parker, security chief for the city's schools, during the walk through Stanley Holmes Village. "There were none of these people out here last year."
A joint venture by Atlantic City and Pleasantville borrows from a model already created in five other municipalities through the state that attacks violence and other problems from all angles. The Atlantic City-Pleasantville Municipal Planning Board is the only one in the state to encompass two towns.
Not only were people out on their porches as dusk fell in the city July 26, many applauded the group as they walked through Stanley Holmes Village.
While the Coalition for a Safer Community sponsors walks and the Stop the Silence initiative continues its summer community barbecues, other things have been added.
Project 365 has each of Atlantic City's six wards concentrating on the top problems — such as addiction or teen pregnancy — in those neighborhoods over the next year. Pleasantville is set to start its own version, having the town's north and south sides focus on problem areas.
Richard Stockton College is providing data that show where the problems are; the data look at income, education and the age of victims and perpetrators. Stockton also has added help in other ways, including lending an intern to help with the coalition's work and having Professor Wendel White teach some of the children photography this summer.
Against the clock
With the incarceration of so many gang members, there's also a time element at work.
"The hope is that we can make it a stronger community before they get out of jail, come back or another gang takes over," said Marissa Levy, an associate criminology professor at Stockton who is leading the research portion of the project.
Levy said it's impossible to know how long the organizers have until crime increases again, but they aren't waiting to find out.
Community walks are also designed to identify problem areas, he said. For instance, if a location needs grass, one of the coalition members will be dispatched to plant greenery. Various other organizations will step up their own initiatives — everything from job training to obesity programs — over the course of the summer.
"We will walk those infested areas to let people know we care," he said.
Mays said the coalition doesn't hold any illusions about the difficulty of its task. It will take time to change attitudes and behaviors, he said.
"We can't just go in there one day and solve problems that have been entrenched for years," he said. "There are good people in those places, but we have to show them we're there — not just a week or a month; this is going to be for years."
A complex problem
The culture of violence in Atlantic City and Pleasantville faced increased scrutiny after a particularly bloody December, when five young men were gunned down in the span of a single week.
It culminated with the Dec. 17 police shooting of Derreck Mack, an 18-year-old alleged Dirty Blok member who reportedly pulled a gun while running through Stanley Holmes Village. His death led to public outcry and, interestingly, two months of relative calm — the next homicide came in mid-February.
Now, the cross-discipline coalition of state and local leaders is investigating how to end the violence, as well as the fear that has stopped many in the two communities from speaking out.
"Most people living here are not criminals, and they should feel strong enough to say, 'This is our city'," Levy said.
Despite year-to-year fluctuations, data collected by the FBI do not show a dramatic increase in violent crime over the last decade. Contrary to conventional wisdom, such crime — which also includes assaults, rapes and robberies — fell nearly 15 percent in the three years since 2009.
Levy cautions against taking the numbers too seriously, as reporting methods can change year to year and, in cases where an individual faces multiple charges, the FBI typically records only the most serious offense.
Compounding an already complex problem is the fact that Atlantic City's population has fallen nearly 5 percent in the last decade. Even if crime remained the same, the crime rate would have increased.
Using arrest and crime data from the two cities, Levy is helping local authorities develop strategies to reduce crime and empower residents. The two-year project is still in its infancy, but will ultimately encompass community groups, religious organizations and schools.
The process is further complicated by Atlantic City's status as a tourism destination. Camden, a city with a similar population and crime rate, doesn't have 29 million annual visitors. However, the vast majority of victims and offenders are local residents. And the drug trade that drives the majority of homicides is a problem shared by both Atlantic City and Pleasantville.
"We don't want to create a situation of displacement," Levy said. "You don't want to try to fix something in Atlantic City that is then going to displace that crime back to Pleasantville or vice versa."
Other problems are fairly conventional.
The divide between rich and poor takes on symbolic power in Atlantic City. Neon signs, LED billboards and the towering glass facades of the casinos are always visible above the public housing projects a few blocks west of the Boardwalk. However, Levy said, there's nothing unique about the crime that plagues low-income communities. Drug-related violence has persisted in places such as Camden and Newark, which aren't considered tourist destinations.
According to the Bureau of Labor Statistics, one in four members of Atlantic City's labor force was unemployed this winter. Levy said the impact of a stagnant economy ripples through a community and, ultimately, increases crime.
"The Tourism District really believes they can improve the quality and quantity of jobs in that area," she said. "I think that's a possibility, but that's a problem that's occurring all over that's not specific to Atlantic City."
'Weed and seed'
Mays said the overarching approach is that of "weed and seed." As police arrest criminals, various community groups will extend outreach measures to the residents who remain.
"We weed out the negativity, and seed it with positive measures," he said.
Mays said potential projects may range from health education, improved landscaping and mural painting. They don't necessarily target violence head-on, but improve the community in ways that will have a broader impact.
"Our goal is to make sure that, as the police do their work, that the social agencies come right behind them," he said. "We're letting the community know that we're here for them."
Police officers have historically played a role in community outreach, and will likely continue to. The Police Athletic League, located at the intersection of Mediterranean and North New York avenues, was founded in 1972 and involves hundreds of local children in events ranging from Boy Scouts to flag football.
Officers often have trouble connecting with the community outside of places like the PAL and Boys and Girls Club, but their increased presence this summer may be improving relations.
Chaplains are tackling problems from a religion-based side, while seasonal Class II officers ride and walk beats in the Tourism District to free up full-time officers to patrol high-crime neighborhoods. Two tactical teams, meanwhile, can be assigned to problem areas as needed.
Things seem to have quieted down.
"You can be optimistic," McClain said, "but you can't get complacent."
Life without them
All of the effort is aimed at preventing the decay of neighborhoods and the loss experienced by families such as the Grants and the Hogans.
Nadine Hogans-Snow, whose brother Willie was shot dead in Pleasantville last year, still holds out hope his killer will be caught.
For months, Nadine avoided his grave.
"I didn't want to go because I had nothing to tell him," she said.
She had hoped to tell him that the individual implicated by street talk had been arrested, or at least that the Prosecutor's Office was closer to solving his case.
One Saturday in April, nearly seven months after Willie was gunned down in Pleasantville, she visited his grave at Seaside Cemetery in Marmora. His then-1-year-old daughter, who lives in Camden, was in town.
It felt appropriate to take her to see her father.
"We were all there," Nadine said. "I was thinking: This is how she will remember her dad, with a picture of him on his headstone."
His daughter pointed to the picture and babbled, as if she was having a conversation that the grown-ups around her couldn't hear.
And, for the first time in nearly seven months, Nadine spoke to her brother. She joked that Wali had his hands in her pocket.
"The Coach store was looking for you," she said, referring to Wali's favorite store to boost. "The Walk told you,'Don't come back.'"
Veronica Grant still feels the presence of her mother, Joyce McKinnon, in the home where she died.
"It's the little things that you notice around here — a door opens up, you look, and it's nobody," she said. "It's like a warm feeling. Like when I'm having a bad day, you can feel she's right there."
Veronica eventually returned to the house, but she still can't bring herself to attend services at her mother's church.
"I went once," she said. "It was very painful. I think I cried the whole time I was in service. But it gets better with time. It's a healing process you go through."
Nadine still speaks with the detective assigned to the case.
"They know me," she said, adding: "Tomorrow is my day to call. Sometimes, I'll give them a little break, but I have to let them know. You will not put my brother's murder on the back burner. I will not sit around and wait for you to call me. I need to keep in touch."
Veronica doesn't interact much with the detectives anymore, but she did participate in an anti-violence video produced last year through the Atlantic City schools. She wants to see something done about the violence and isn't afraid to step forward to do it herself.
"I feel hurt. I feel angry," she said. "The streets are not safe, and I have a grandson myself now. How is it going to be when he's 12 or 13?"
Gang foes see lull as chance to retake communities - pressofAtlanticCity.com: Crime